Chris Vanderveen, Marshall Zelinger
"Hey man. Hope all is well," read the text sent to DPS Superintendent Alex Marrero. "Just saw the news about the Kurt Dennis decision. I'm really surprised you guys did that. I think that is gonna be a terrible outcome for you and your team."
The text, obtained via an open records request and confirmed Tuesday to be authentic by now Mayor Johnston, was sent, according to the timestamp, at 11:25 p.m. on July 6.
"I have my concerns," he added. "I've shared them with him. He knows it's obviously not my decision, not my purview."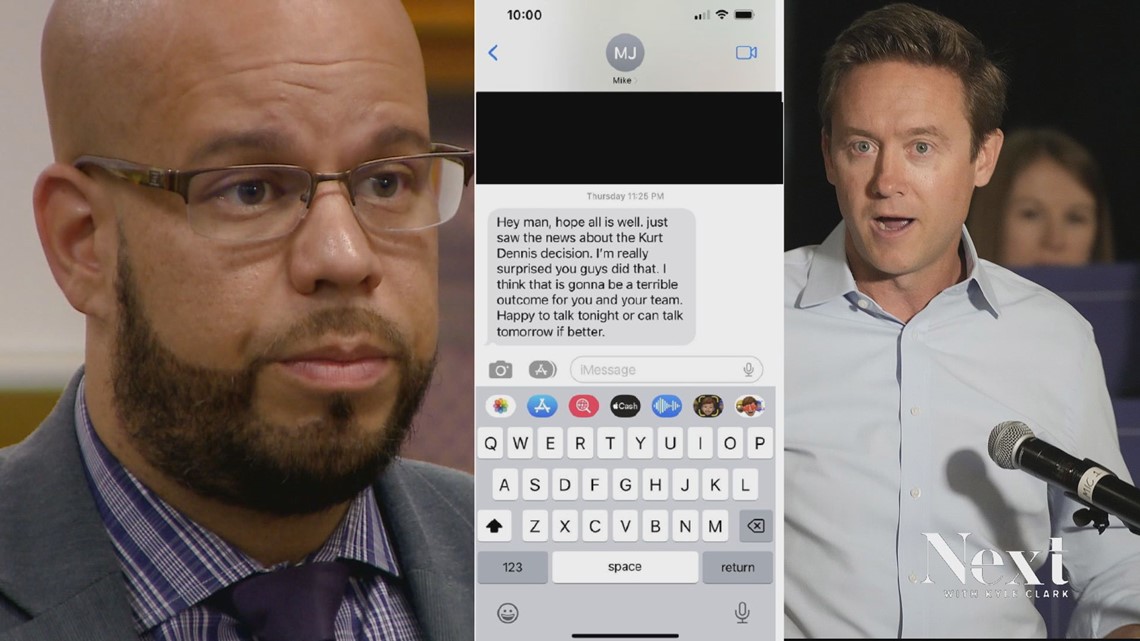 DPS fired the only principal McAuliffe International School has ever known following Dennis' decision to openly discuss with 9NEWS his school's improvised safety plan for a student accused of attempted murder.
During his initial interview with 9NEWS — done two days after a shooting inside East High School left two deans wounded — Dennis said his school was being forced to do the same type of weapons pat downs that had left the two deans vulnerable.
"When I saw what happened at East, I recognized the similarities. It really hit a nerve," said Dennis back in March.
"I think it's important that people know. I think it's important that parents know. I think it's important that school leaders speak out and say this is not ok and it needs to stop," he said.
In his case, DPS district officials had repeatedly denied Dennis' request to find an alternative way to educate a student accused of attempted murder. Denver Police officers had told him, "In their professional opinion… the student should not return to a traditional setting," according to a DPS document reviewed by 9NEWS.
Forced with no alternative, the student returned to McAuliffe with daily pat-down searches. It was something, Dennis confessed, neither his staff nor he was trained to do.
"The school district told you because this attempted murder took place off school grounds it doesn't impact his life on school grounds?" I asked Dennis in March.
"Correct," replied Dennis.
Earlier this month, DPS officials cited Dennis' interview with 9NEWS in his termination letter. The move, his attorney said, would send a chilling effect to principals and teachers across the district.
Marrero has repeatedly denied interview requests from 9NEWS. In a prepared statement sent to 9NEWS shortly after the firing, DPS said the firing "had little to do with any media interview, but rather the sharing of confidential student information in violation of state and federal laws."
Tuesday, the mayor voiced support for the fired principal, a person he's known for years.
"I think the demonstrated track record of success at McAuliffe is remarkable, so I think you'd have to have a really good reason to replace a leader that's been as successful," he said.